.
Welcome to Lindsay FFA!
Advisor: David Skeans – dskeans@lindsayisd.org
Advisor: Kayla Lee – klee@lindsayisd.org
Find us on Facebook: https://www.facebook.com/Lindsay-FFA-1438877996372678/

---
Chili Challenge December 7
The Lindsay Youth Supporters are sponsoring the 9th Annual Chili Challenge on Saturday, December 7 in Centennial Hall. Details are below.

---
Youth Supporters Sponsor Hayride at Carnival
The Lindsay PTC held the annual Halloween Carnival on October 27, and the Youth Supporters sponsored a free hayride for the event. Assisting were George Spaeth, 4-H members Geordan and Matthew Spaeth and FFA members Michael Sprouse and Andrew Goldsmith.

---
LHS Receives Generous Donation

A huge thanks to Billy Fitzgerald and Rudy Hess with ESAB for their generous donation to the Lindsay High School ag mech/metal shop program. We are very grateful for the new welders and plasma cutter and all of the accessories!
---
FFA Students Prepare Projects for Auction
Students in Mr. Skeans' and Mrs. Lee's classes have been busy getting projects ready for the October 6 Oktoberfest auction.


Mr. Skeans' ag mechanics students built an SUV cargo rack for the auction.

---
Mrs. Lee's floral design classes also created projects for the auction.

---

Click here to download & view the Lindsay FFA Ag Science slide show including info on the program of clases we offer, how to get involved and what it takes to get scholarships through FFA.
Highlight for LIndsay FFA in 2018/2019
· Lindsay FFA had 30 students showing animals or exhibiting shop projects at the Cooke County Youth Fair and earned over $26,000 in premiums
· 10 Lindsay FFA members exhibited livestock at State Fair of Texas, Fort Worth Stock Show and Rodeo, and Houston Livestock show and Rodeo.
o 1 Reserve National Champion Cow Calf Pair
o 2 Reserve Division Champions
o 7 Class Winners
· LDE teams:
o One State Qualifying Team
o One 1st place Area banner
o Two 3rd place Area banners
o 3 out of 4 teams advanced to Area
· CDE teams
o Two State Qualifying Teams: Meat Evaluation & Dairy Cattle Judging
o 2nd Place Meat Evaluation team in Area V
o 4th Place Dairy Cattle Judging team in Area V.
· One lonestar degree recipient 2018, and one lonestar degree applicant 2019
o 15 Green hand degree recipients
o 10 Chapter Farmer degree recipients
· $17,000 in scholarships and counting
· State Officer Candidate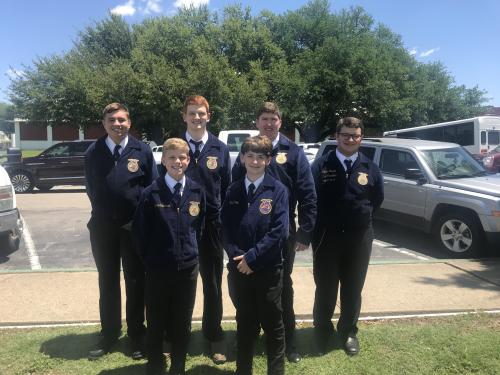 .