.Welcome to Lindsay FFA!
Advisor: David Skeans – dskeans@lindsayisd.org
Advisor: Kayla Lee – klee@lindsayisd.org
Find us on Facebook: https://www.facebook.com/Lindsay-FFA-1438877996372678/

---
Junior Livestock Show is History
A good number of Lindsay students participated in the annual Cooke County Junior Livestock Show, which ended on January 9. We have photos of the animal and shop exhibits here.
---
FFA Quiz Team Qualifies for State
The Lindsay FFA Chapter Quiz team is Headed to State! Congratulations to Stephen Fuhrmann, Colton Popp, Jase Keith, Ryan Hellman, Kade Branson, and Kade Cannon. Lindsay FFA's quiz team placed 2nd at the Area V competition and qualified for the State Contest that was held on December 4.
---
FFA Does Well at District LDE
Lindsay FFA had a great district LDE (Leadership Development Event) competition! Our district 5 LDE results are as follows:
Chapter quiz team, District champion (area qualifying): Stephen Fuhrmann, Colton Popp, Ryan Hellman, Jase Keith, and Kade Branson.
Senior Creed speaking, 2nd place (area qualifying): Stephen Fuhrmann.
Greenhand quiz team, 3rd place team: Kade Cannon, Sydney McFarlane, and Shayla Ramos.
Radio Broadcasting, 3rd place team: Mary Doughty, Abby Hellman, and Katy Blanton.
Greenhand creed speaking: 4th place Kade Cannon.
Congratulations to all of our district participants and winners!
---
Lindsay FFA 2020-2021 Officers
Chapter Officers
President – Stephen Fuhrmann
Vice President – Harley Bowling
Secretary – Coltan Hanks
Treasurer – Colton Popp
Reporter – Mary Doughty
Sentinel – Michael Sprouse
Parliamentarian – Abby Hellman
Historian – Ryan Hellman
Chaplain – Layton Morrow
Greenhand Officers
President – Sydney McFarlane
Vice President – Slate Tatum
Secretary – Kade Cannon
Treasurer – Brice Robison
Reporter – Shayla Ramos
Sentinel – Cody Williford
---
Fuhrmann Named to District FFA Office
Stephen Fuhrmann will be representing Lindsay FFA as the District V First Vice President for the 2020-2021 school year. This is a huge honor and we know that Stephen will doing a great job as one of the leaders for our District! Congratulations Stephen!
---
---
Click here to download & view the Lindsay FFA Ag Science slide show including info on the program of clases we offer, how to get involved and what it takes to get scholarships through FFA.
Highlight for LIndsay FFA in 2018/2019
· Lindsay FFA had 30 students showing animals or exhibiting shop projects at the Cooke County Youth Fair and earned over $26,000 in premiums
· 10 Lindsay FFA members exhibited livestock at State Fair of Texas, Fort Worth Stock Show and Rodeo, and Houston Livestock show and Rodeo.
o 1 Reserve National Champion Cow Calf Pair
o 2 Reserve Division Champions
o 7 Class Winners
· LDE teams:
o One State Qualifying Team
o One 1st place Area banner
o Two 3rd place Area banners
o 3 out of 4 teams advanced to Area
· CDE teams
o Two State Qualifying Teams: Meat Evaluation & Dairy Cattle Judging
o 2nd Place Meat Evaluation team in Area V
o 4th Place Dairy Cattle Judging team in Area V.
· One lonestar degree recipient 2018, and one lonestar degree applicant 2019
o 15 Green hand degree recipients
o 10 Chapter Farmer degree recipients
· $17,000 in scholarships and counting
· State Officer Candidate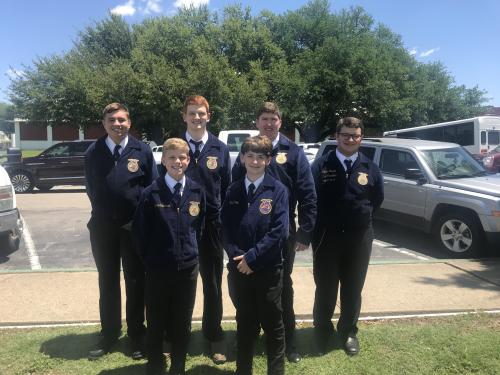 .