.
Welcome to Lindsay FFA!
Advisor: David Skeans – dskeans@lindsayisd.org
Advisor: Kayla Lee – klee@lindsayisd.org
Find us on Facebook: https://www.facebook.com/Lindsay-FFA-1438877996372678/
---
---
Thurman Wins Award at San Antonio


We would like to recognize Simon Thurman for his incredible Tractor Restoration Project. Simon restored a 1940 Minneapolis Moline tractor this year. He exhibited at Fort Worth, San Antonio and plans to go to Houston as well. He got third in his class at San Antonio and received a $250 gift certificate for welding supplies from Airgas. Congratulations Simon, we wish you the best of luck at Houston!
---
Hellman Wins Scholarship at Fort Worth Show

We would like to congratulate Cade Hellman, who competed in the Heifer Superintendent's Beef Challenge in Fort Worth. It is a scholarship competition open to Junior Beef Heifer exhibitors that are Seniors in high school and have shown in the Fort Worth Stock Show Junior Breeding Beef Heifer Show for a minimum of two years. Out of 75 competitors, Cade earned second place and received a $12,000 scholarship! We are so proud of Cade and this accomplishment!
---
Thurmans Win Awards at Fort Worth
Lindsay students Simon and Henry Thurman started off the Southwestern Exposition and Livestock Show with impressive results. Simon won first in his class and Reserve Champion over the Farm and Ranch Restoration Division with his tractor restoration project. Henry received a blue ribbon for his impressive deer blind.

---
Students Enjoy Christmas Party
The Lindsay FFA chapter held a meeting on December 17 that was followed by a Christmas party. We have pictures of the fun below:


---
Ag Department Receives Donation

In November, the Lindsay ag department received a second donation from ESAB North America. Thank you so much to Billy Fitzgerald, Rudy Hess and the team at ESAB for your continued support of our program. We are so fortunate to have a community and companies that value the growth of our students. This donation will enable our students to continue gaining valuable metal working and shop experience.
---
FFA Attends Banquet

Several members of the Lindsay FFA chapter attended the District V banquet on December 9. Lindsay FFA students have won several banners at recent competitions, and these awards were presented at the banquet.
---
Lindsay FFA Earns Awards at District LDE
On November 11, the Lindsay FFA chapter sent a group of students to the District Leadership Development Event (LDE) competition in Krum. Here is a summary of how our students placed:

Lindsay was District champs in Senior Quiz Team, Greenhand Quiz Team, and Senior Creed Speaking, second In District in Radio Broadcast, and fourth in Greenhand Creed Speaking.

First and second places advance to our Area contest that will be on Wednesday, November 20. Team members are: Senior quiz team Cade Hellman, Stephen Fuhrmann, Colton Popp, Ryan Hellman, Mary Doughty; Cade Hellman was high point, Stephen Fuhrmann second high point, Ryan Hellman 4th high point!

Greenhand quiz team: Jase Keith, Tommy Fuhrmann, Blake Keith, Henry Hess; Tommy Fuhrmann high point, Jase Keith second high point.

Senior Creed speaker: Stephen Fuhrmann. Radio broadcast: Casey Pounds, Abby Hellman, and Kloe Copeland. Greenhand creed speakers: Emma Baker and Laine Reiter.

---
Youth Supporters Sponsor Hayride at Carnival
The Lindsay PTC held the annual Halloween Carnival on October 27, and the Youth Supporters sponsored a free hayride for the event. Assisting were George Spaeth, 4-H members Geordan and Matthew Spaeth and FFA members Michael Sprouse and Andrew Goldsmith.

---
LHS Receives Generous Donation

A huge thanks to Billy Fitzgerald and Rudy Hess with ESAB for their generous donation to the Lindsay High School ag mech/metal shop program. We are very grateful for the new welders and plasma cutter and all of the accessories!
---
FFA Students Prepare Projects for Auction
Students in Mr. Skeans' and Mrs. Lee's classes have been busy getting projects ready for the October 6 Oktoberfest auction.


Mr. Skeans' ag mechanics students built an SUV cargo rack for the auction.

---
Mrs. Lee's floral design classes also created projects for the auction.

---

Click here to download & view the Lindsay FFA Ag Science slide show including info on the program of clases we offer, how to get involved and what it takes to get scholarships through FFA.
Highlight for LIndsay FFA in 2018/2019
· Lindsay FFA had 30 students showing animals or exhibiting shop projects at the Cooke County Youth Fair and earned over $26,000 in premiums
· 10 Lindsay FFA members exhibited livestock at State Fair of Texas, Fort Worth Stock Show and Rodeo, and Houston Livestock show and Rodeo.
o 1 Reserve National Champion Cow Calf Pair
o 2 Reserve Division Champions
o 7 Class Winners
· LDE teams:
o One State Qualifying Team
o One 1st place Area banner
o Two 3rd place Area banners
o 3 out of 4 teams advanced to Area
· CDE teams
o Two State Qualifying Teams: Meat Evaluation & Dairy Cattle Judging
o 2nd Place Meat Evaluation team in Area V
o 4th Place Dairy Cattle Judging team in Area V.
· One lonestar degree recipient 2018, and one lonestar degree applicant 2019
o 15 Green hand degree recipients
o 10 Chapter Farmer degree recipients
· $17,000 in scholarships and counting
· State Officer Candidate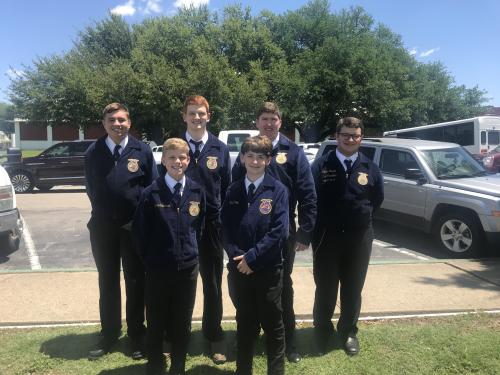 .